Learn how to make natural body butter with just two ingredients. This DIY body butter recipe is easy and inexpensive to make with natural ingredients.
There are several reasons why I absolutely love to make my own cleaning and personal care products at home. When I first started diving into non-toxic living over 10 years ago, it was because it was so hard to find products that were truly clean that also performed well. Trust me, non-toxic makeup has come a long, long way in the past 10 years. Now there are many more reputable companies out there, but I still find there is a ton of green washing going on. I'm a stickler for reading a label, yet I can't tell you how many times I have almost been fooled by the green washing on a product label! Nothing bothers me more than green washing. It's so discouraging that so many people out there are trying to make a healthier choice for their family, yet they're essentially being duped.
I love making my own products at home so that I know exactly what's in them. If you think about the products you use to clean your home, what you wash your hair and body, skincare, makeup, perfume… it can add up to a massive burden of toxins on your body. I am always looking for ways to reduce my toxic load!
I'm sure many of you who eat a clean, organic diet, care about your water quality, and use natural products can relate to the fact that if you're not paying attention, your budget can get blown pretty quickly. I love making my own products because with just a couple of inexpensive natural ingredients on hand, I can do so much. You don't need to spend $30 on organic body butter or even $5 on non-toxic cleaner.
What You Need To Make Homemade Natural Body Butter
You only need a few ingredients to make homemade natural body butter, and a little goes a long way.
How To Make Natural Body Butter
To make homemade natural body butter, follow the steps below!
Add shea butter, coconut oil, and jojoba oil (if using) to a double boiler. I use a make shift double boiler by placing a pyrex mixing bowl over top of a pot of boiling water. Melt the oils together.
Let the oils cool and set. I do so by leaving the bowl in the freezer for about 30 minutes. You don't want it frozen solid because you won't be able to whip it. You want it just set enough that you'll be able to get it to the right consistency. See the photos below for reference!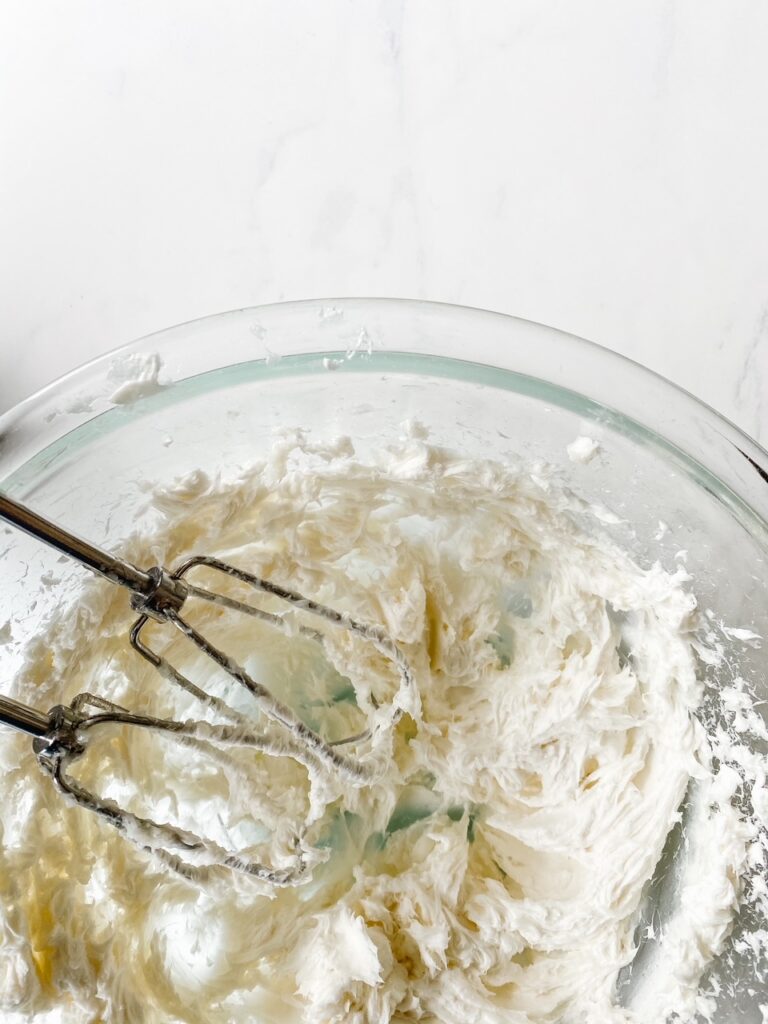 Using a stand mixer or a handheld mixer, whip the mixture together with the essential oils.
Transfer to an air tight container of your choice. If gifting, add a pretty ribbon and label and you're good to go!
Ingredient Substitutions for Natural Body Butter
It is easy to make substitutions in this recipe for natural body butter.
Use cocoa butter instead of shea butter.
Use olive oil or sweet almond oil in place of jojoba oil, or omit. The jojoba oil gives the natural body butter a little lighter of a consistency, but it isn't at all necessary.
Swap the essential oils for your personal preference. Do not use citrus essential oils in this recipe if you plan to apply the body butter and then be exposed to sun. This could cause burning. 'Hot' oils like melaleuca or oregano oil should also be avoided in this recipe. Lavender, ylang ylang, frankincense, myrrh, sandalwood, and peppermint are some of my favorites both because of their scents and their health benefits.
Omit essential oils for an unscented version!
My Natural Body Butter Melted, Can I Fix It?
Yes! There is nothing wrong with natural body butter that has melted. If your natural body butter melts and then hardens again, you'll find it is much firmer. It is likely just too warm where it is being stored. You can continue to use it as is, or chill it in the fridge and whip it again for that lighter texture.
My Homemade Body Butter Is Too Greasy, What Do I Do?
I personally don't find this necessary, but you can add 2 teaspoons of arrowroot powder when whipping the natural body butter. This will thicken it a little bit, and also make it feel a bit lighter and less greasy on the skin.
How To Make Natural Body Butter
Learn how to make homemade natural body butter with just two ingredients. Non-toxic, safe, clean DIY body butter recipe that you can customize to your needs.
Additional Time
30 minutes
Ingredients
1/2 cup shea butter
1/3 cup coconut oil
1 tbsp jojoba oil (optional)
10 drops lavender essential oil (optional)
Instructions
Add shea butter, coconut oil, and jojoba oil (if using) to a double boiler and melt together.
Chill mixture in the freezer for 30 minutes.
Remove mixture from the freezer and add essential oils. Whip using a hand or stand mixer until it has turned white and fluffy.
Transfer to an air tight container.
Notes
If you find this mixture greasy, add 2 teaspoons arrowroot powder. Customize the essential oils as you prefer. Adding jojoba oil will result in a lighter texture, though I typically leave it out.
Pin It For Later
More DIY Essential Oil Recipes
How To Make DIY Essential Oil Linen Spray